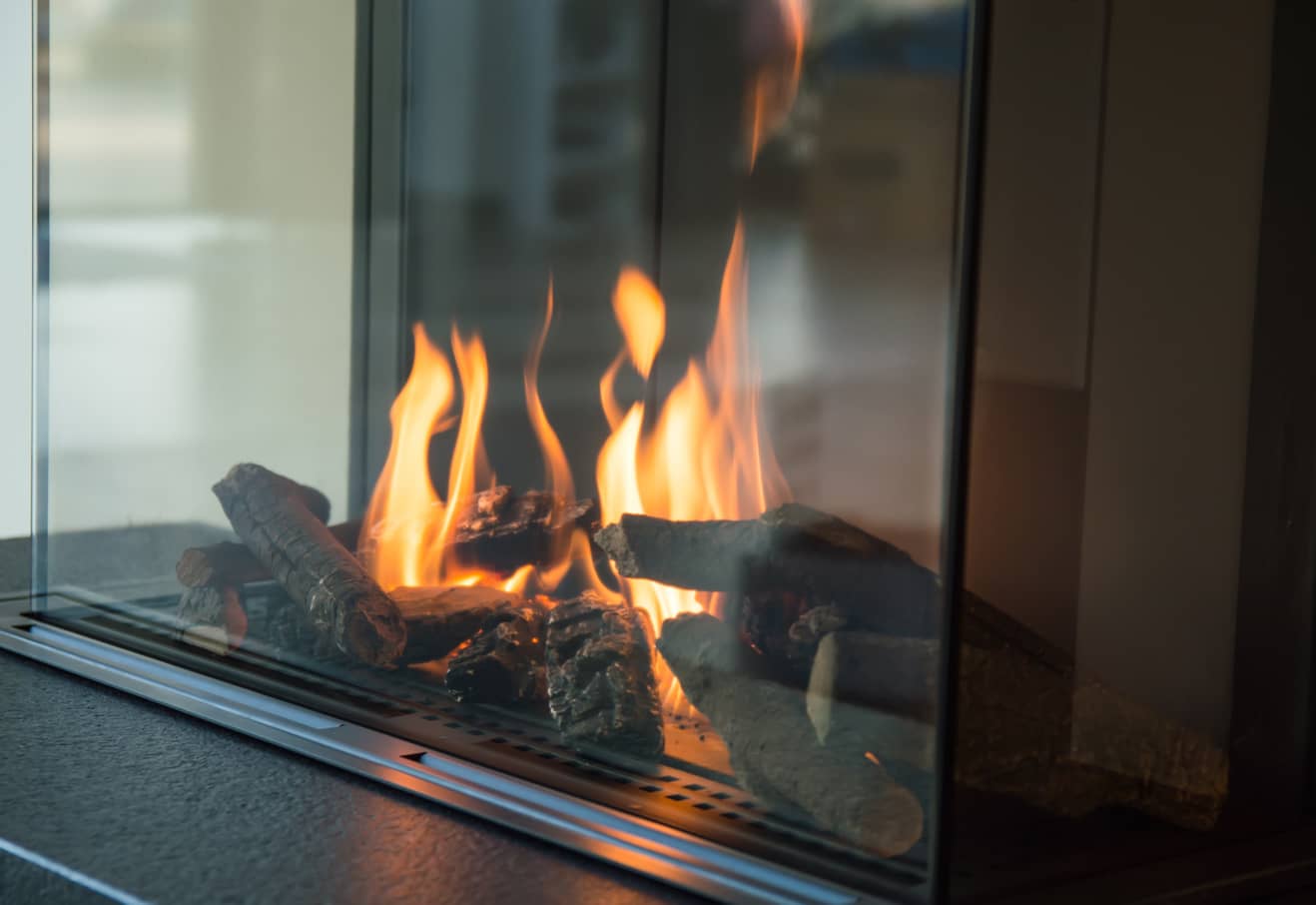 Installing a gas fireplace is always an exciting project. Typically, a gas fireplace provides a natural clean look and instantly adds warmth and ambiance to your home. Using your gas fireplace in the cooler months is definitely expected. However, have you thought about cleaning the gas fireplace? Often we ignore this chore as we forget that the gas adds residue to the lining of the fireplace. Do gas fireplaces need to be cleaned? Yes, regular cleaning to prevent residue build-up and the release of carbon monoxide is key.
Let's take a look below at what we need to clean a gas fireplace and the best approach.
What Do I Need To Clean It
First of all, it needs to be said that gas fireplaces don't burn wood. So, you don't have to worry about cleaning up the mess from burning wood, which is great!
Let's get together some supplies and tools that you might need for cleaning the fireplace on your own. If you have the time, energy, and equipment, it is always cheaper to complete the project yourself.
Supplies
Fireplace glass cleaner will loosen the soot and other grime from the metal and glass parts of the fireplace. It will also serve as a future barrier so the fireplace doesn't dirty so quickly.
Warm water – is used to rinse the cloth rags from the soot that you have wiped off the fireplace.
Cloth rags – used to wipe the soot off the metal and glass of your fireplace parts.
Potential Tools
Shop Vacuum – used to suck up loose soot and grime.
Hand broom allows for a quick sweep of the loose debris and soot in your fireplace. Do this prior to wiping down with water and cleaner.
Cheesecloth or nylon net – used to keep the mess to a minimum and off your flooring and surrounding area. It does this also while cleaning at the same time.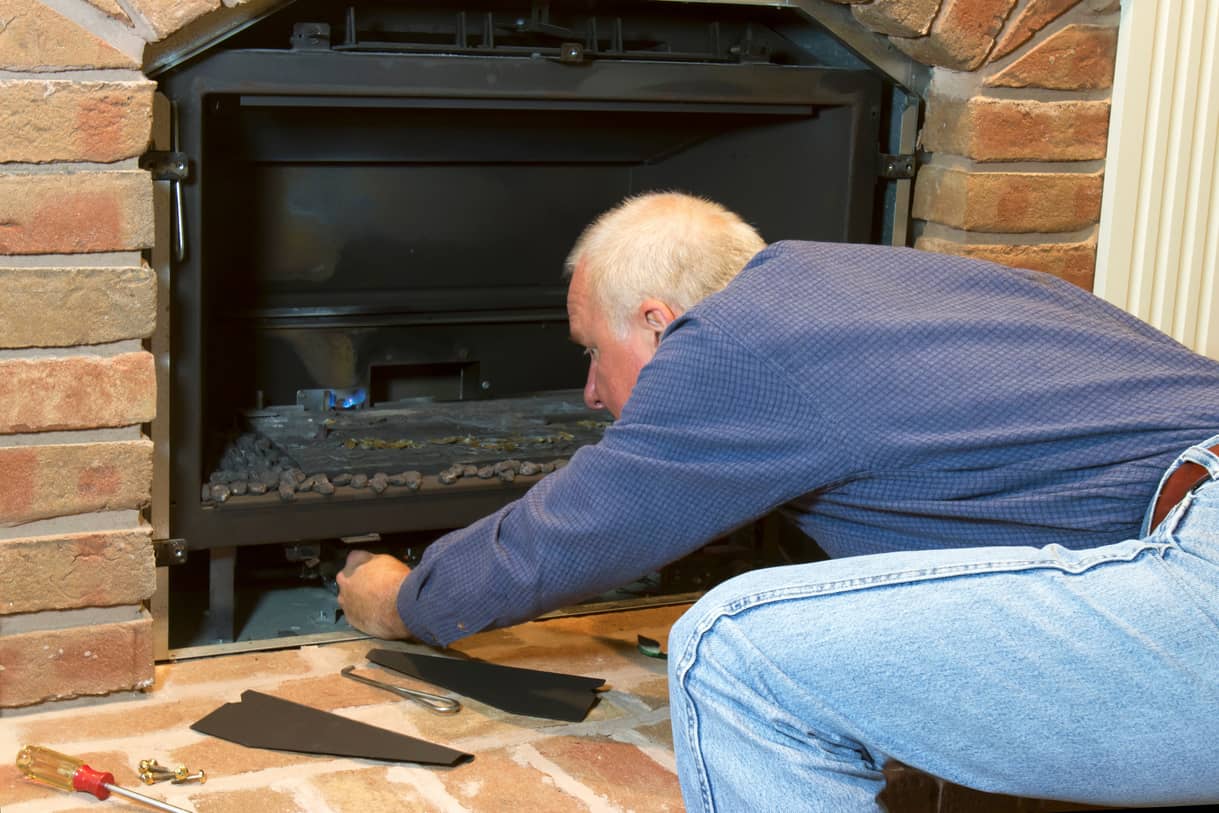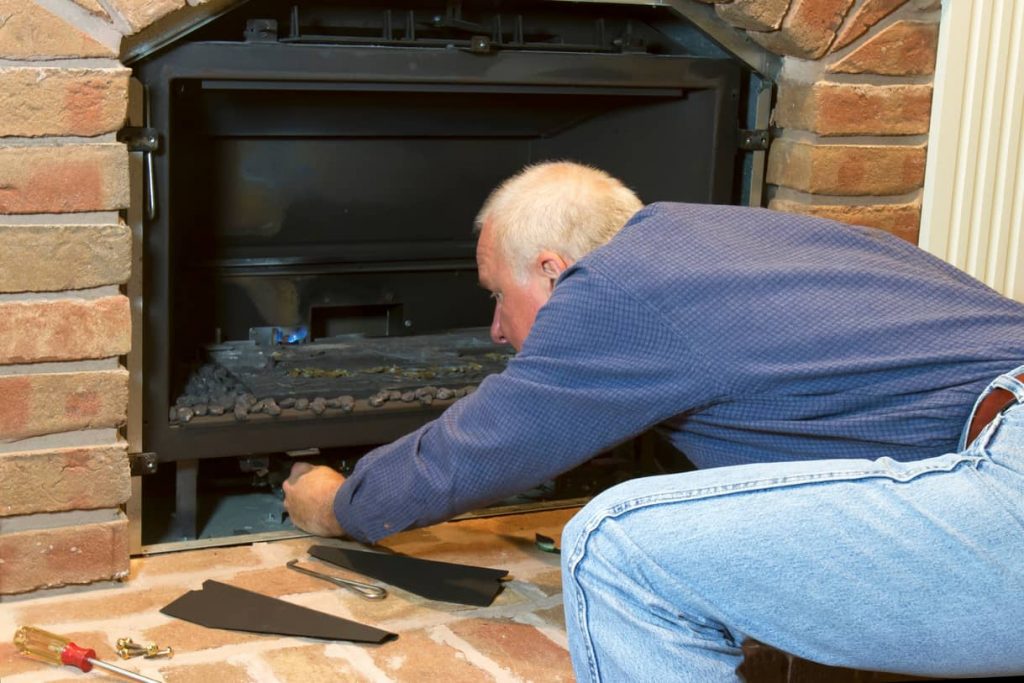 What Steps Do I Take To Clean It
Every project that you complete in a home has a step-by-step process. Thus, understanding the order of operations to make sure gas fireplaces are cleaned can ensure that you stay safe and protect your investments. Follow these steps below for proper cleaning of your gas fireplace.
Turn off the gas – the gas valve is typically located next to the fireplace. Make sure it is completely off and the pilot light is out.
Take apart the fireplace – disassemble your doors and mesh barrier first, then gently remove the logs and burner unit. Clean them thoroughly before reinstalling.
Brush the parts and inspect them – brush away all build up from the logs and burner unit. Inspect the burner units vents to make sure nothing is clogged.
Remove dust and webs via vacuum – vacuum all corners of the fireplace and the dust and debris along with insects or spiderwebs that might have shown up.
Polish your glass and metals – spray your cleaner and let it sit for a few minutes. Then use your damp cloth and wipe away the build up off your glass doors and wire mesh barrier.
Clean the mantle and hearth – dust your mantle and hearth to make sure everything is looking brand new again.
Put the pieces back together – reinstall the burner unit, logs, stones and replace the outer glass or screens. Also, turn the gas valve back to the on position.
Check all vents – inspect your exterior vents on the outside to make sure no nests or debris has gotten into the vent and clogged it up.
Completing these tasks will help ensure that you have removed all residues and grime from your gas fireplaces and they are cleaned. Also, cleaning it keeps the prospect of carbon monoxide from entering your home to a minimum.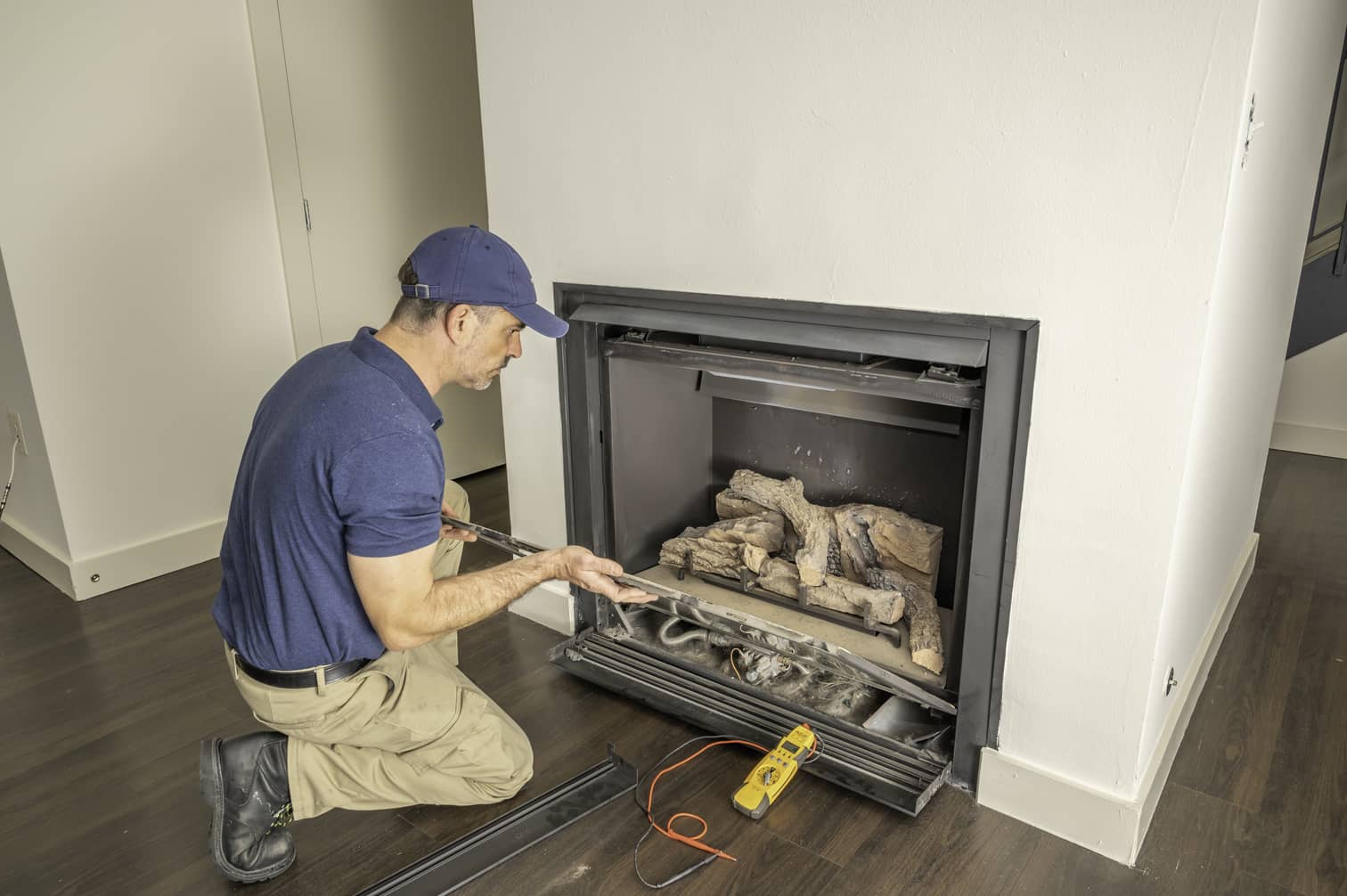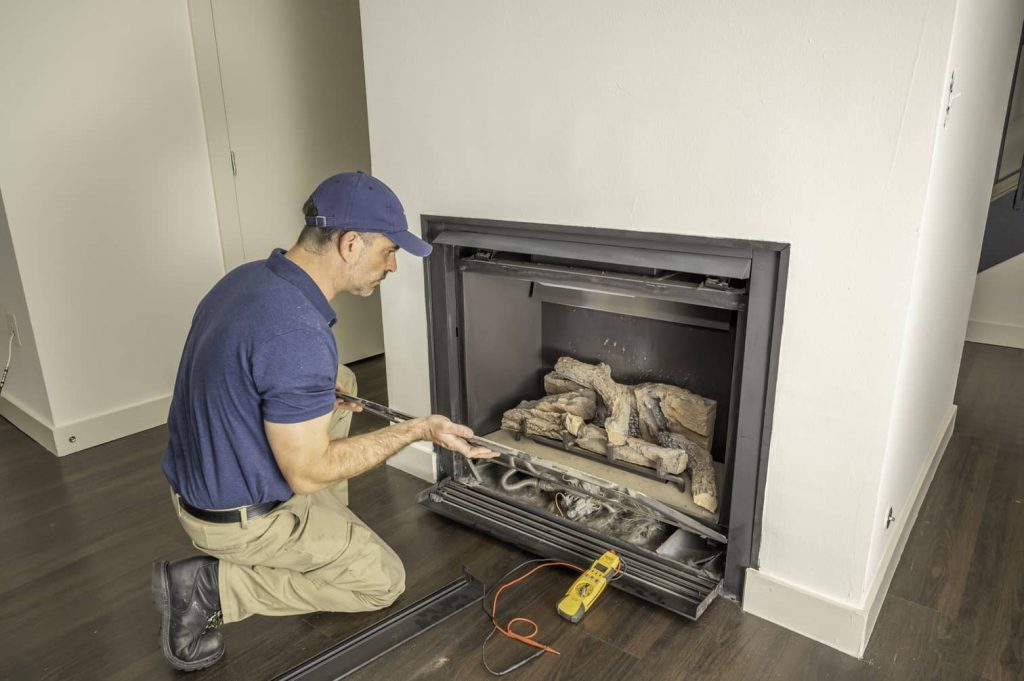 How Much Does It Cost
Luckily, if you do not have time to clean the gas fireplace yourself, contact your local gas fireplace service company and they will send out a technician. The national average cost of cleaning your gas fireplace ranges from $150 to $175. Also, keep in mind that a typical inspection can cost you $75 to $100. This varies based on any potential repairs and part replacements. Doing this cleaning protects your investment.
Other Recommended Maintenance
While you are getting your gas fireplace cleaned, you might want to consider getting your carbon monoxide detectors and smoke detectors inspected. Gas fireplaces can release carbon monoxide into your home, so keeping your detectors in top condition is vital to your health and safety.
Maybe you have a parent who has a home with a wood-burning fireplace? Do you know how to maintain it? Fireplace maintenance involves cleaning various areas as well as inspecting areas to make sure all is clean and in working order.
Lastly, if you have a gas fireplace, chances are you have other gas appliances in the home. You will want to make sure that you have a fresh air intake vent, it is clean and nothing is blocking it.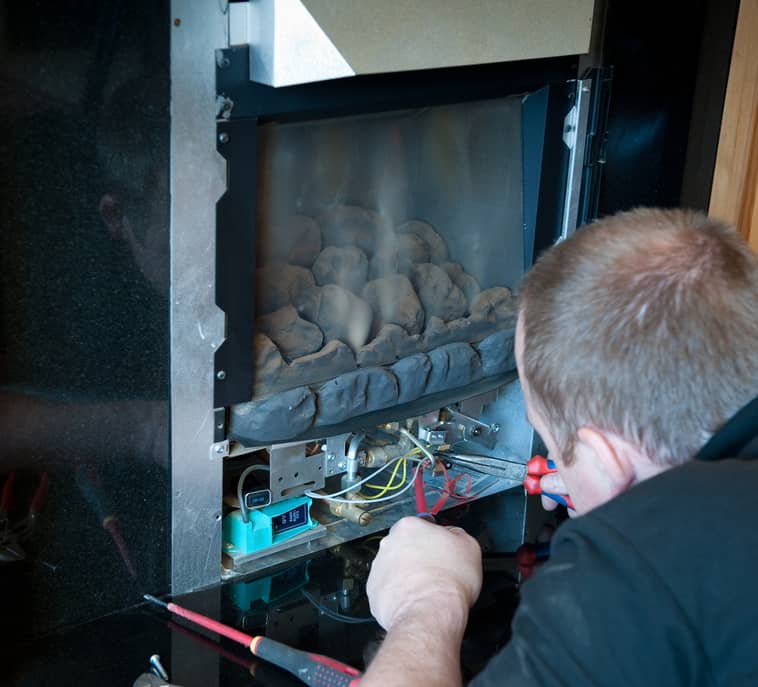 When Do I Call A Professional
Calling on a professional fireplace servicing company and your gas company is vital to keeping you safe while also enjoying your gas fireplace. Keep an eye on the pilot light. Make sure the pilot light is blue and that soot has not built up in your fireplace. You will want to call the gas company to inspect your gas line if the pilot light is any other color but blue.
This would be a great time to call out your local home inspection team to also assist with any other recommended projects. They can also refer you to the most reputable cleaning service. If you happen to smell any odors such as sulfuric rotten eggs, immediately shut off the gas line, open up your windows and call 911.
Conclusion
Having your gas fireplace cleaned regularly is important to the health and safety of your family and your home. If you live in a place where you need to utilize the gas fireplace often, you will likely be cleaning the fireplace more often. It is advisable that you clean the gas fireplace after every use and when the warmer months begin, hire a professional to do a thorough cleaning.
If you need assistance with finding the correct reputable contractor to complete this project, call on your local home inspection team. Not only can they make quality recommendations, but they can also conduct a home inspection to find other projects that you might need to complete at this time. Reach out to Avalon Home Inspections, we conduct home inspections in Greenville, SC, and Atlanta, GA.