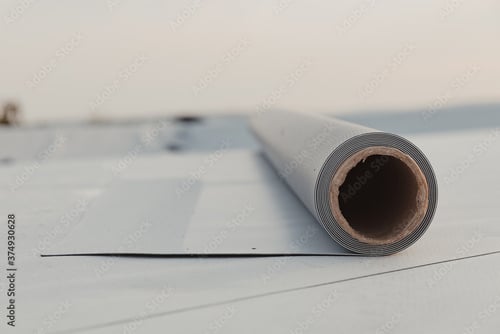 Owning a home comes with a lot of responsibility. In some cases, things happen to a home that requires immediate attention. For many homeowners, having the resources or funding available right away is not a possibility. If this occurs, you might have to consider a do-it-yourself project. Fortunately, in some cases, there are roofing projects that can be completed by a homeowner. Roll roofing is one of those roofing materials that can be completed by the homeowner. What is roll roofing? It is a cheap roofing material that can be purchased at your local hardware store. It is great for flat roofs.
Let's take a look below at when and how you might use roll roofing on your home.
Roll Roofing Defined?
Roll roofing is also known as (MSR) and is a product that is an oil-based asphalt product. It is available in 100 square feet rolls, weighs about 75 pounds, and is 36 inches wide. It is readily accessible at home improvement stores, hardware stores, and online. The drawback of rolled roofing is that it is less durable, cheaper, and thinner than asphalt shingles.
Where Is Best To Use Roll Roofing?
Roll roofing is usually seen on work sheds, barns, shops, kid's treehouses, outside exercise structures, garages, shacks, gazebos, and other functional structures. It is rarely used in residences.
While it is similar to asphalt shingles, it is used on roofs that have a low slope. Roll roofing is good for roof pitches that have a decline of 1 inch for every 12 inches. This is also known as a 1:12 pitch. If you can hide the nails in fastening, then it will work on this type of pitch. The best pitch for rolled roofing is 2:12 which is 2 inches of decline for 12 inches of horizontal direction.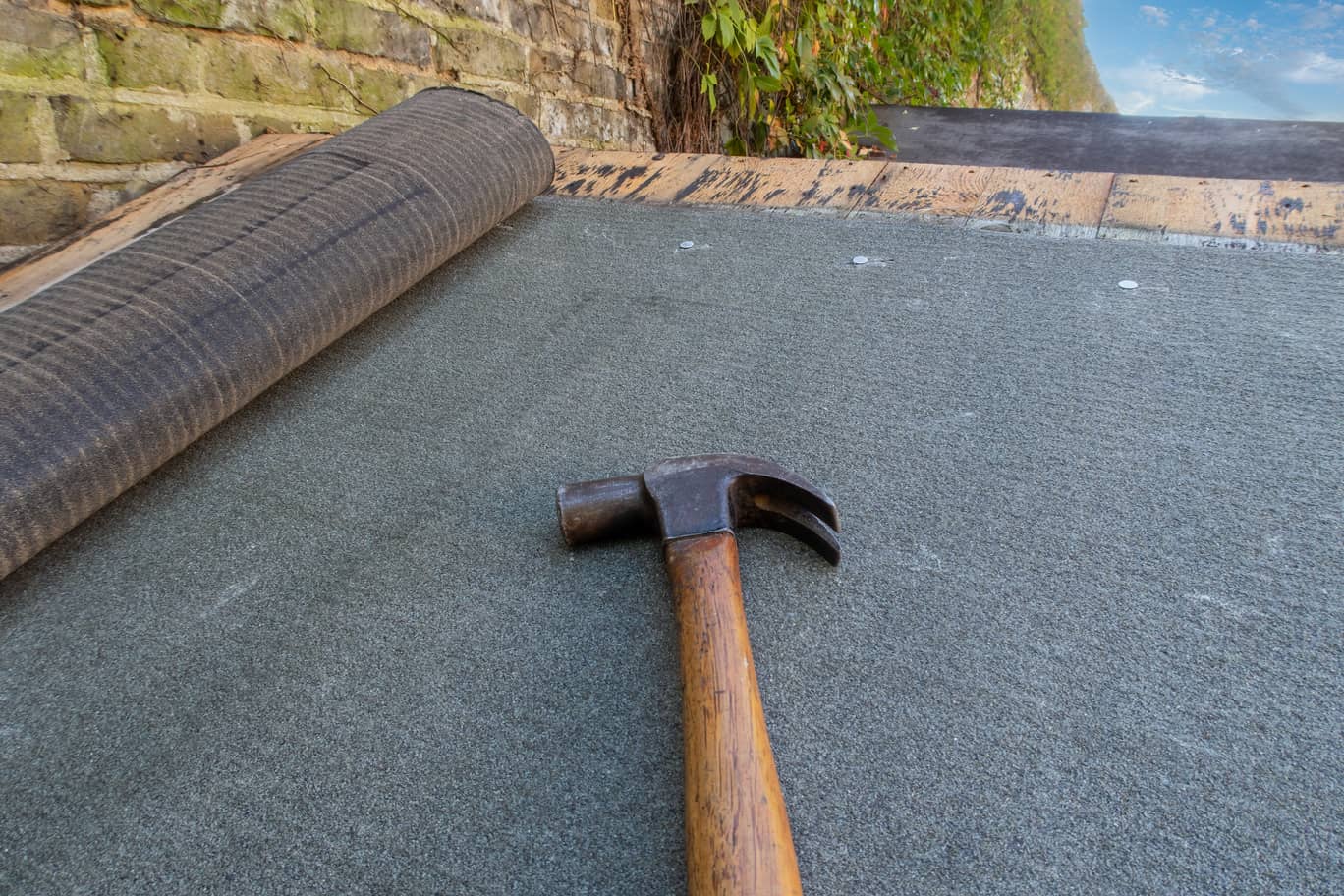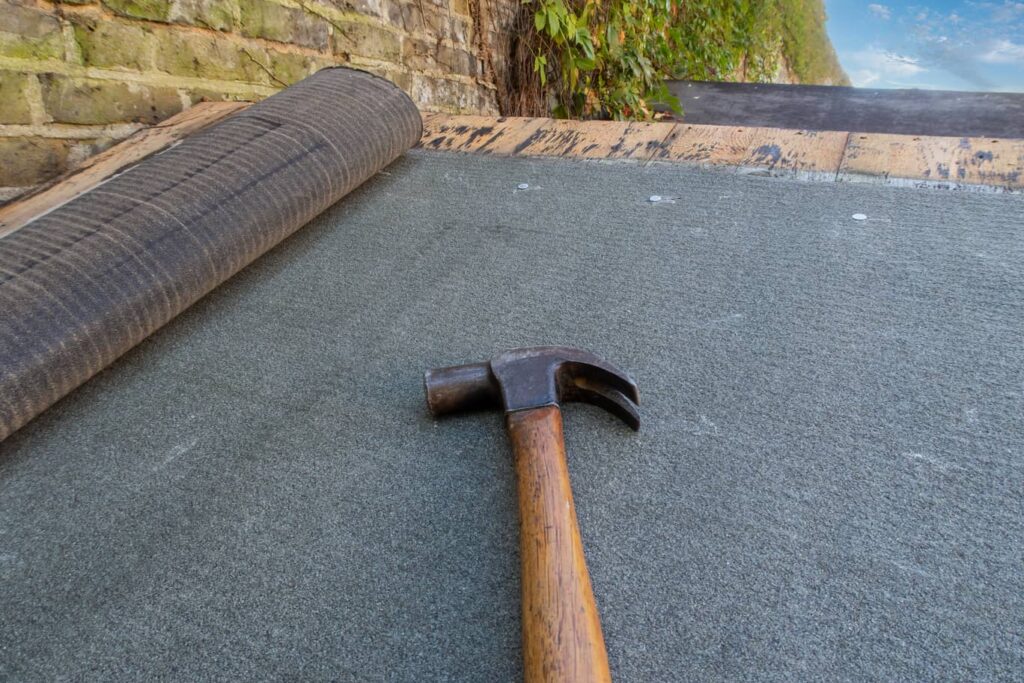 How Do You Apply It?
Some homeowners use this to re-roof over a roof that already exists. However, it has to be prepared carefully ahead of time by making sure there is no gravel or debris, or residue from the previous roof. This will ensure that you don't have any damage or punctures in the roll roofing.
How Do You Install It?
The good news is that it is easy to install. However, you will need to cut the rolls into long strips and specific lengths and these will also be in a horizontal position. One of the types of roll roofing is saturated felt which has asphalt that is infused as this gives extra protection and support. As mentioned above, low-sloped roofs are where this works best so make sure this is where you are installing roll roofing.
Handling Roll Roofing
This may seem like something you can do alone, but you will need a buddy or contact a company for help. It is easier to get it to the roof from the ground than asphalt shingles are but you still need help. Roofing contractors often use forklifts or other machines to move asphalt shingles but that is not needed for roll roofing. Instead, you can get the material to the roof with the help of a buddy and no machinery is needed.
Pros and Cons of Roll Roofing
As with anything, there are pros and cons. Let's take a look at those.
Pros
Inexpensive compared to asphalt/composite shingles
Great for low-incline and flat roofs
Doesn't take long to apply as it can be rolled out quickly
Lighter and more compact to transport than shingles.
Cons
Not allowed in many HOA communities
Color choices are limited as they are usually green or black
Shingles are more durable than roll roofing. Roll roofing can deteriorate or tear easily. This can cause loss of granules or bald areas.
A short life span of 5 to 8 years compared to the average length of 20 years of composite and asphalt shingles.
No resale value as homeowners do not like it on a home
Other Recommended Maintenance
Now that you know what a rolling roof is let's take a look at some other areas for maintenance.
One of those is the lifespan of slate roofing. If you are trying to decide what type of roofing to use, one to consider is slate roofing as it lasts 75-150 years. Making sure you use a licensed contractor, as well as having it installed correctly are good ideas to ensure you get the most amount of years out of the roof.
Next, you may be looking at adding gutters on your roof. Gutters are essential as they allow water to go through the downspouts and away from the home. Aluminum gutters can last 20 years or more as they are very durable and don't rust.
Lastly, sometimes we may have a flat roof that leaks. To fix this, you will need to locate and identify the leak, assemble the materials needed, and install the replacement pieces. However, it is always best to call a professional to make sure it is done correctly.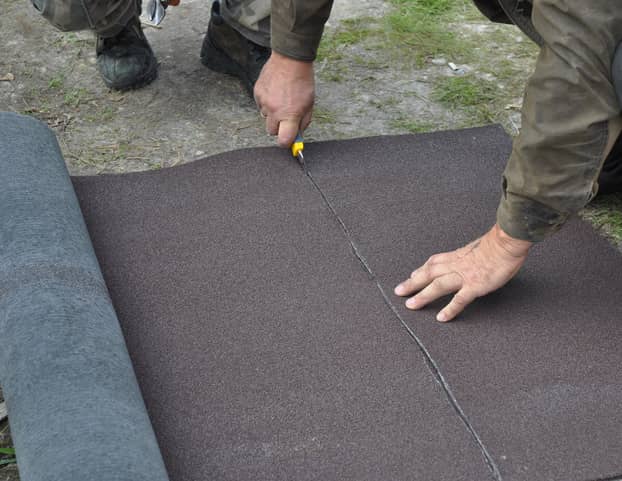 When Do I Call A Professional?
When looking at different types of roofs, it is best to call a professional. They will know what type will work best with the home or area you want to add a roof. In addition, a professional has the machinery if you choose a roof like slate, tile, or even asphalt. As mentioned earlier, if you need help getting roll roofing to the roof, you may need a professional as well.
Conclusion
Choosing to add roll roofing to a structure is often a good idea as it will save money and is less hassle than other types of roofing materials. Roll roofing is great for gazebos, low-slope roofs, work sheds, and barns to name a few. Contacting a professional may help in choosing the right material and also making the right decision. Call on Avalon Home Inspections, to conduct your roofing inspection during a complete home inspection in Atlanta, GA.