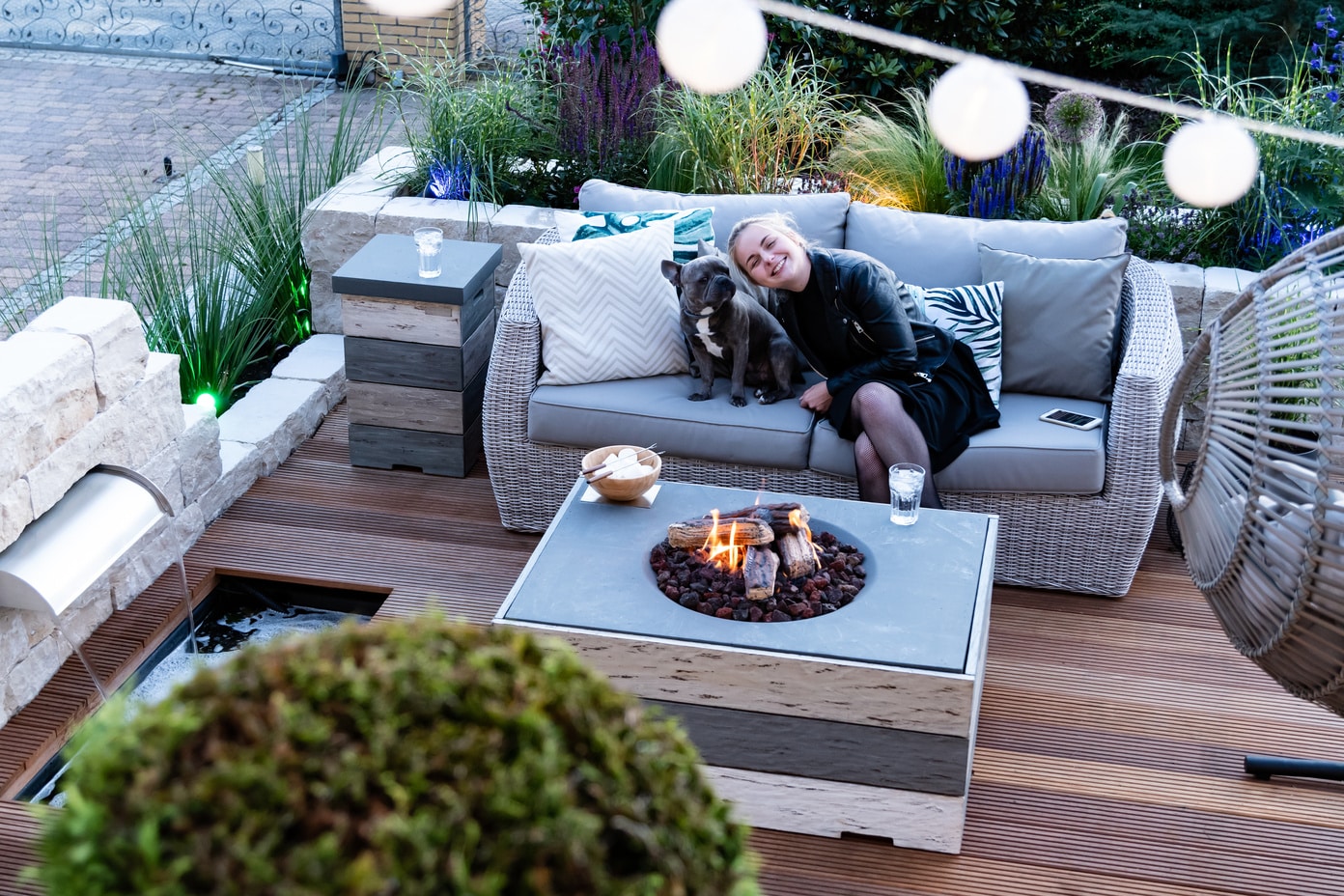 When a home buyer purchases a house, there are a lot of considerations that go into their decision. Most home buyers want a home that is warm, cozy, family-oriented and provides ample entertainment options. Whether it is having a pool, pool table, outdoor kitchen, outdoor grilling, paver patio, or even a fire pit, these options are great entertainment features in a home. With regards to a fire pit, most homeowners enjoy the classic look of a stone fire pit. However, in many cases it is cheaper to have a gas fire pit placed on your patio or decking. Are gas fire pits safe on decks? As long as the gas fire pit is not making contact with the wood or composite decking and has clearance.
Let's take a look below at all of the things we should know before installing a gas fire pit on a deck.
Is Gas Different From Wood Burning
Gas fire pits are the more reasonable choice for a deck or patio. Due to the compactness and portability of gas fire pits, you can place them in a small safe space on most areas of your deck. Most wood-burning fire pits require a concrete base or dirt base. So, in order to install one of these, you will need concrete block and a paver like patio. If you choose a wood-burning fire pit, make sure to include a flame guard, so that you do not accidentally burn yourself or your guests.
What Is The Decking Surface
Keep in mind that there are a few choices when it comes to a decking surface. Knowing which surface you have is important before you purchase a gas fire pit. Let's take a look at the usual decking materials to make sure that you choose the material where gas fire pits will be safe on decks.
Vinyl deck – made from PVC and is highly combustible. Not a great choice to host a fire pit. When vinyl PVC plastic decks are exposed to extreme heat, they will expand and crack. Your decking surface would no longer be safe.
Wood deck – cheaper material to be used to build a deck. They require a lot of maintenance and constant staining or sealing to keep the elements away and the colors bright. You can place a gas fire pit on a wood deck if there is a protective barrier, but it isn't recommended as much.
Composite decks – a great investment that requires little maintenance. Since composite decks are made from recycled materials, they are combustible. The plastic, wood, and resin are mixed together to form the deck boards. It is ok to use a gas fire pit on your composite decking if you have a heat barrier in between the two.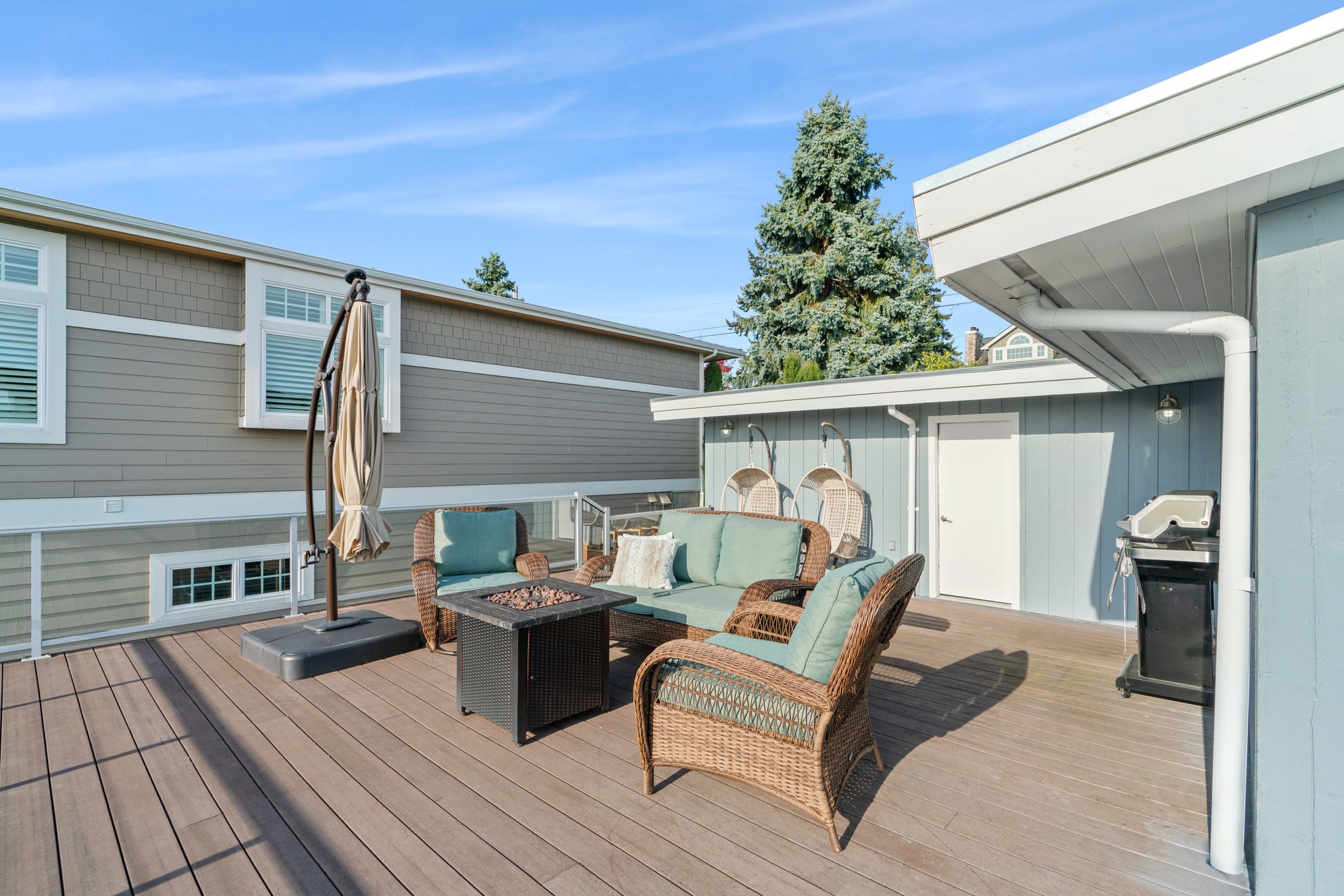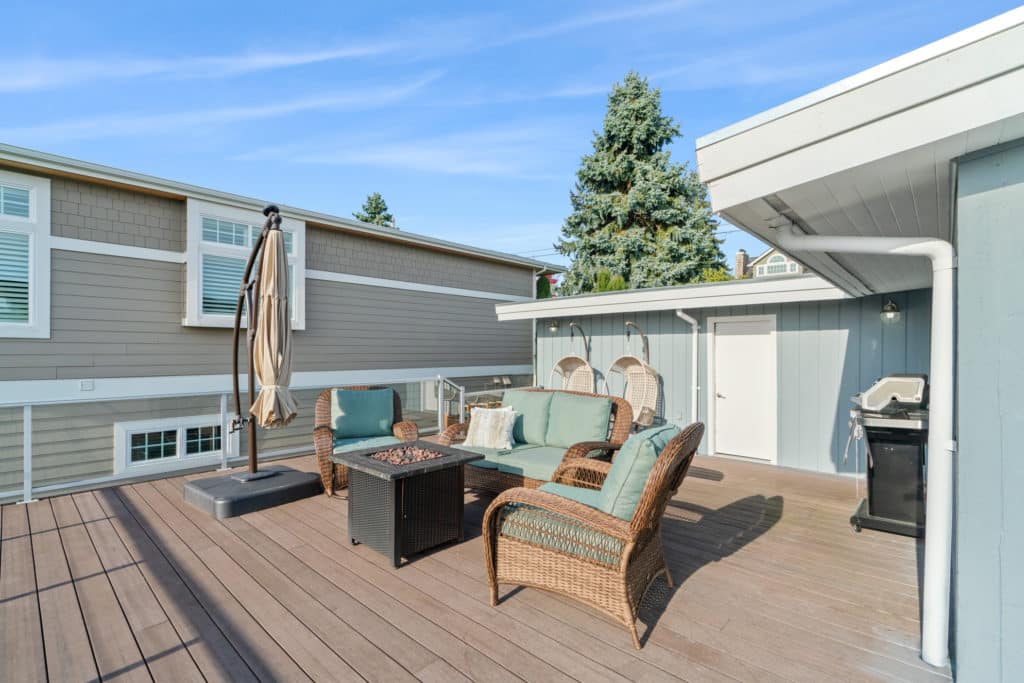 How Do I Know If It Is Safe
The only way that you would know if the gas fire pit you select for your deck is safe is if the manufacturer clearly states a specific decking type that the gas fire pit can be on. Always make sure that you are purchasing a high-quality item and that it is installed properly. Let's take a look at some more specifics:
Follow all safety guidelines provided by the manufacturer and ensure that you are using high-quality products.
Only place gas fire pits on non-combustible surfaces and away from any materials that can easily catch fire.
Purchase a gas fire pit that has a CSA certification. This means that the fire pit has been tested and guarantees it to have a safe performance rating.
Make sure that wherever you place the gas fire pit that you have ample clearance above. You do not want overhanging trees or shrubs to be anywhere near the fire pit.
What Should I Know
Believe it or not, there are a lot of things that you should know regarding safety and gas fire pits. Before you rush out to purchase one because it brings added aesthetic value to your home, go ahead and do your research. Gaining an understanding of which gas fire pit fits best with your type of decking is key. Let's review the safety concerns that you should be aware of, prior to buying a gas fire pit.
Regulations – always make sure that you are following all safety regulations for your area. Various towns and cities have various fire codes and regulations. Get to know them before spending. You might realize that at certain times of the year, you will not be able to use the gas fire pit.
Clearance – typical clearance for a fire pit is roughly 36 inches around and 80 plus inches above the gas fire pit. Make sure to read the manufacturers required clearances and determine if you have those before you make a purchase.
Weight ratio – in some cases, a gas fire pit could be fairly heavy. Not only do you have the propane tank but the weight of the unit itself. Make sure that the fire pit is not too heavy for your decking. If you have rotted wood, the fire pit could go crashing through and cause major damage or even a house fire.
Right type – choosing the correct type of fire pit for your decking surfaces is just as important as the aesthetic value it can provide. Having a small deck would suggest that you need a gas fire pit and not something cumbersome, like a wood-burning fire pit.
Keep it away – always keep your fire pit a safe distance away from the home. This ensures that if something were to occur, the damage could be minimized.
Safe surface – make sure to place any fire pit on a non-combustible surface. Always read up on the fire pit pads before choosing one to buy. Some are actually made of combustible materials. Also, consider to only place a fire pit on a concrete deck or stone pavers. They can absorb the heat better than any wood type of decking.
Nothing Flammable – when your propane gas fire pit is turned on and working, never add any additional materials to the flame. Make sure you read up on the manufacturers recommendations for any added materials like river rock or gravel. Absolutely never add paper, lighter fluid or other combustible items to the fire pit.
Spark screens – if you use a wood-burning fire pit you will want to use a spark screen. These screens keep the embers from floating around the air and landing on a combustible area like your homes rooftop or a nearby tree.
Know the emergency off switch – if you are using a gas fire pit that is propane or connected to a gas line, make sure you know how to shut off the gas. In some cases, the fire pit might get out of control or a type of accident can occur. You will want to be able to immediately shut the gas line off.
Other Recommended Maintenance
Now that you know more about fire pits on decks, let's take a look at other areas to check while you are outside. One of those is the windows. Many people like awning windows since they provide a great cross breeze in the home. This might be a window choice for you if you are thinking about changing the windows out.
Another area to look at is your landscaping. Every homeowner has an idea of what looks good around the home. Some people like mulch, while others may like rocks. Landscaping rocks are a great choice as they don't attract bugs and have a great aesthetic look about them.
Lastly, you may notice around the outside of your home that there is not enough soil built up around the house foundation. Starting with fill dirt first and then finishing with topsoil is the best way to add soil and this will also give you nutrients for plants to grow.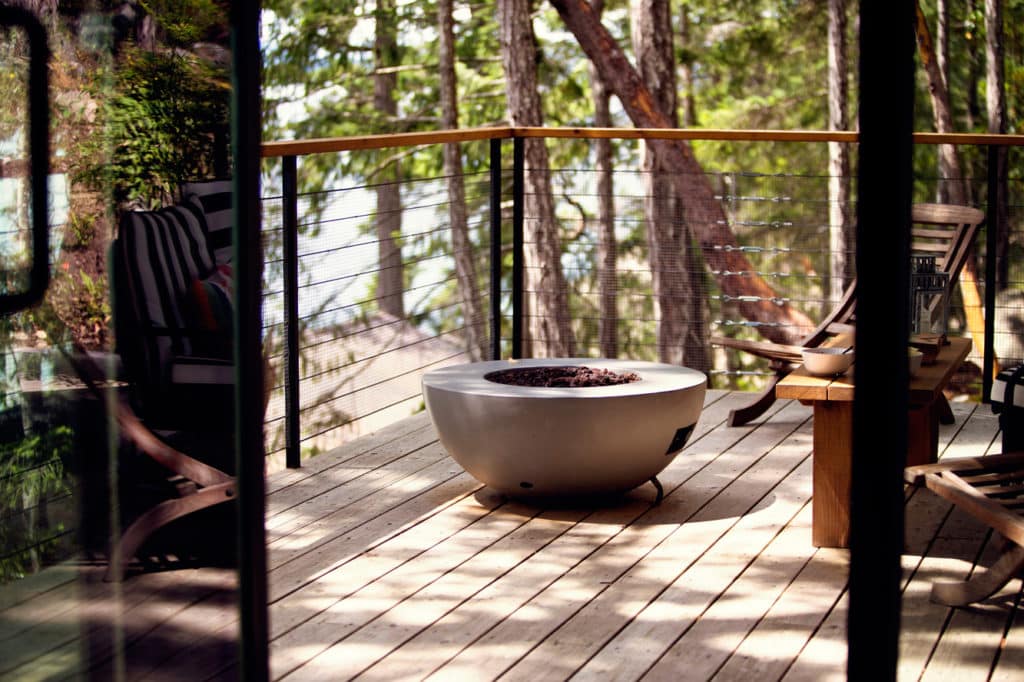 When Do I Call A Professional
Before you decide to install a gas fire pit, make sure that you reach out to a local fire pit sales company. In some cases, you will find that they can come out and make a recommendation as to what type of fire pit would make sense based on your type of decking.
If you aren't sure who to call, reach out to your local home inspection team. They can conduct your yearly home inspection and determine if your decking is safe for a gas fire pit. Also, your local home inspection team can refer you to a reputable fire place company.
Conclusion
The key to a successful gas fire pit installation is understanding your type of decking and what the manufacturers recommend. Always make sure to select a product that fits your spacing and your aesthetic needs. Do not purchase a huge gas fire pit because you think it looks cool. It won't look cool if it burns down your house. Make sure that you keep in mind safety first and common sense. If you aren't sure how to approach any of that, reach out to your local home inspection team.
They can inspect your home, and talk to you about what makes the most sense for your living space. Also, they can recommend the best fireplace company that sells gas fire pits in your local area. Reach out to Avalon Home Inspections, we conduct home inspections in Atlanta, GA.